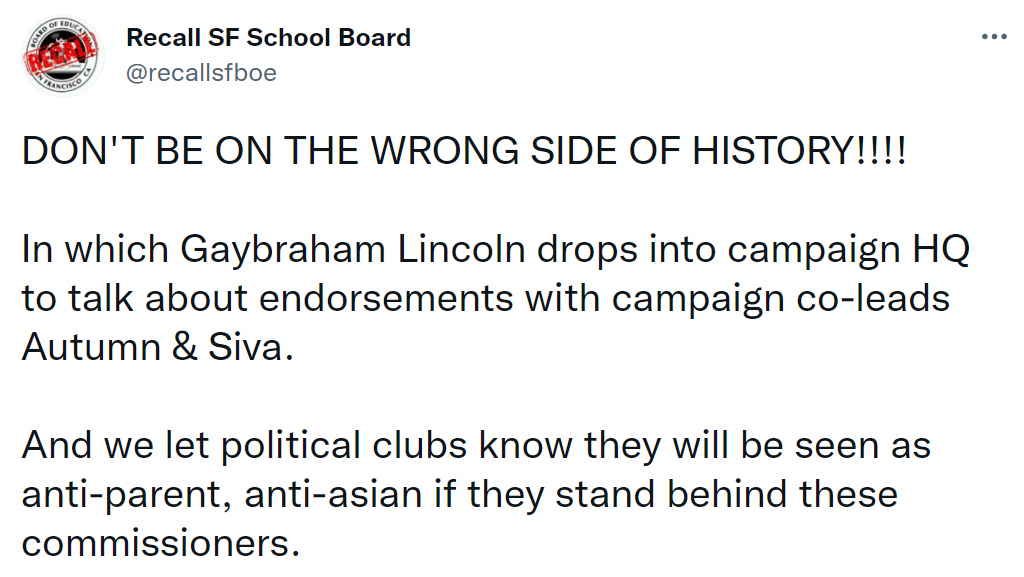 In an email to SFGATE, Raj defended the video, writing that the person who played Lincoln is David Thompson, a "gay parent rightly upset that the school board prioritized renaming over reopening and found a symbolic way to communicate his disapproval." Raj also said he is bisexual.
I watched some of this with a feeling of a sort of puzzlement – awe or wonder would be too strong. I couldn't figure out what was going on, really, even after reading and re-reading the SF Gate article. It's apparent an organization is using irony to discredit another organization or group of individuals, but absent any knowledge of the referents the signs used here carry no valence. It was a strange feeling: I felt that at one time I would have known who some of these people are, and understood what issue was being wrestled with, but now I just don't. I don't even know the minimal amount necessary to ground an effective show of ignorance. It's just a blank.
The whole "wrong side of history" conceit is a strange one. To claim a "wrong side" presupposes a "right side". What do these terms mean? I can confidently state that I'm definitely on history's side, however. I've always been a big fan of history.